Boys Soccer District info: Attached is the bracket and COVID protocol for the district tournament. The address for Cooper Sports Complex is on the flyer.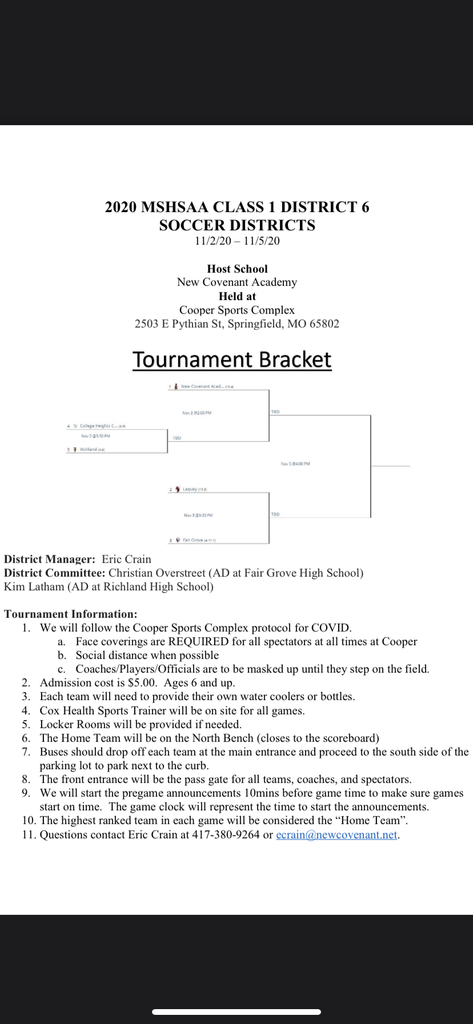 Ms. Murphy's Biology Classes extracted seeds from soil and stool samples to learn about the differences in germination rates of seeds dispersed by wind and those dispersed by animals. This activity will lead to learning about plant structure and function and mitosis. (Note: stool samples were not real and were created for simulation.)

Just a reminder: Curb side meals will be available for anyone 18 and younger at the elementary gym doors on Friday's. Breakfast and lunch will be provided from 9-11am. There is no cost for the meals.
This Friday (10/30) is Picture retake day - Elementary 9:00AM - 10:00AM High School 10:00AM-11:00AM

Tonight's soccer game at Cole Camp has been canceled.
It is Red Ribbon week! Talk to your students about peer pressure and drugs. Kids give into peer pressure because they want to fit in. They want to be liked and they worry that they may be left out or made fun of if they don't go along with the group. The best way to be prepared for when this happens is to have a good excuse/reason already practiced. Conversation starter: Guardian/Parent: How do you say "no" to peer pressure? Student: I don't know, why? Guardian/Parent: If you have an excuse or reason you are more likely to not do something you didn't want to do. Let's practice! Drugs are illegal and dangerous. I have to stay healthy for sports. I am not putting bad stuff in my body. Or what sounds easy for you? - The Laquey Counselors

The Cross Country meet at Licking today has been canceled.

Red Ribbon Week starts tomorrow!

Sorry for the delay. Here are the brackets for the Frisco League Junior High Boys and Girls Tournament.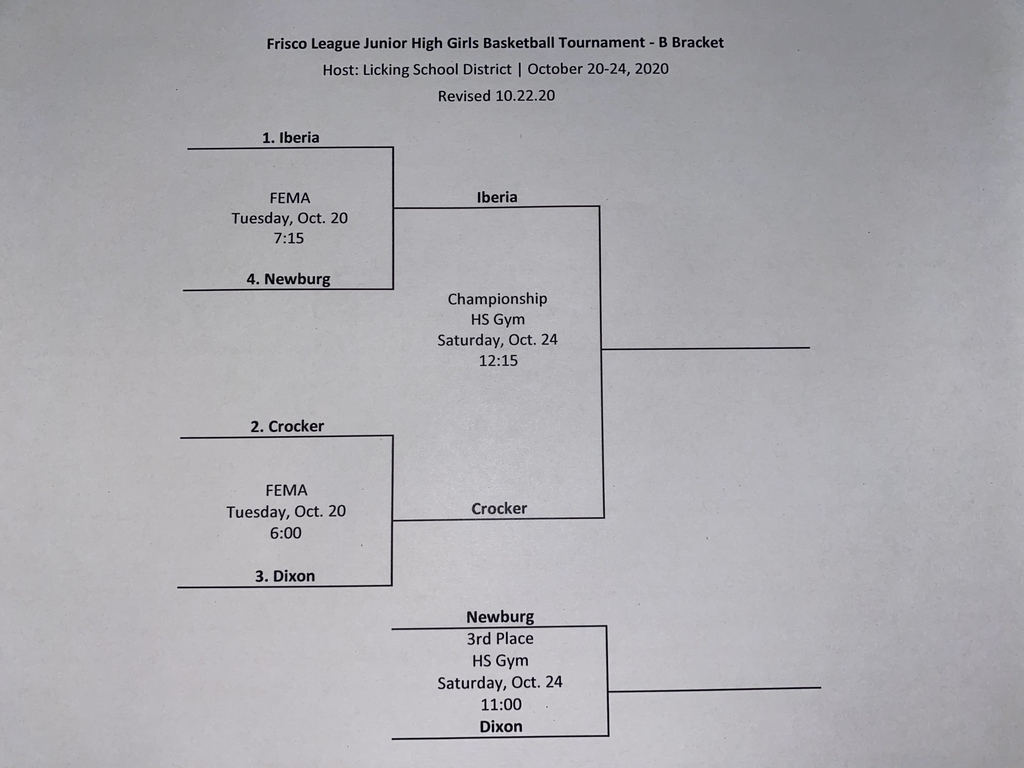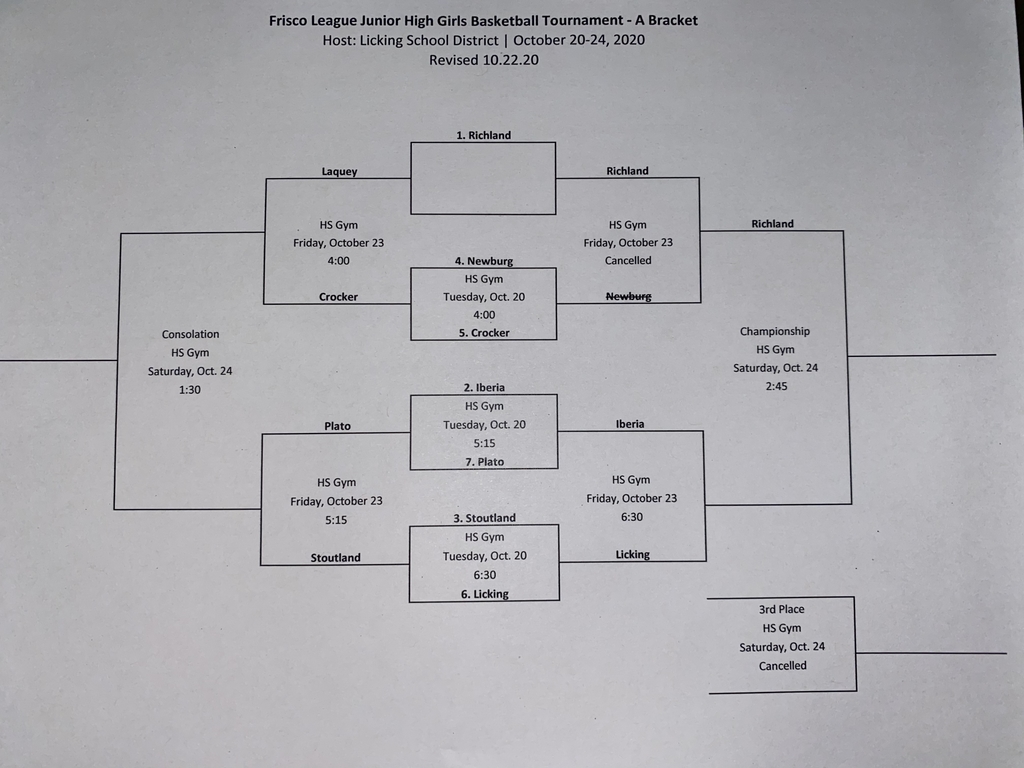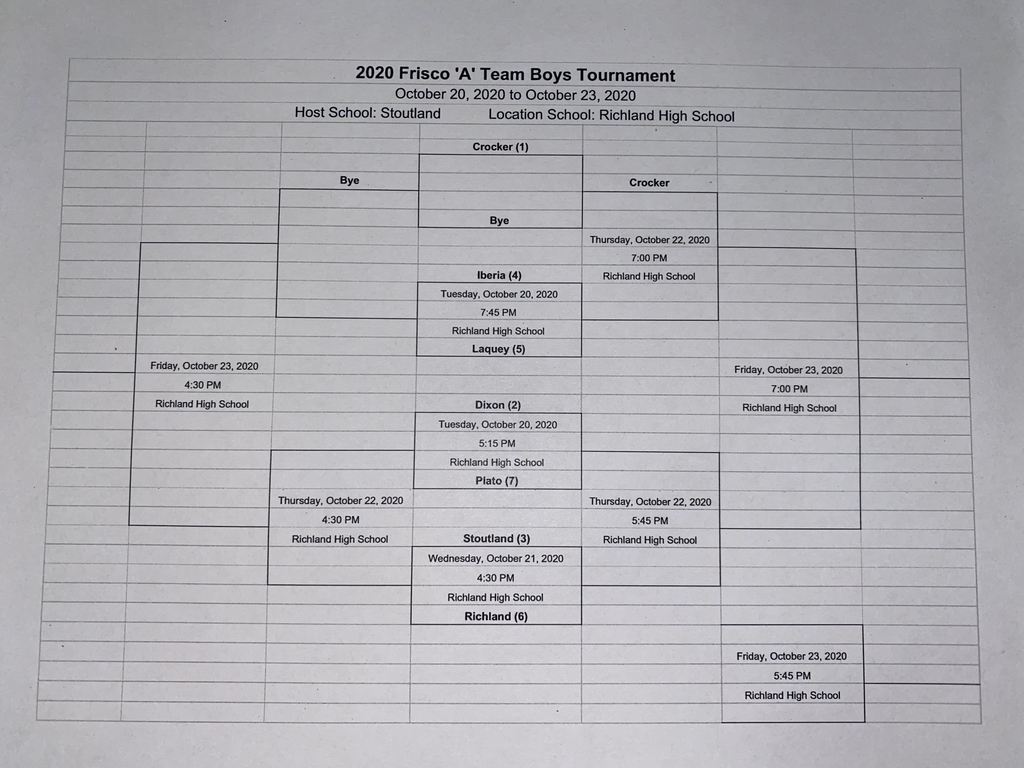 Archery students who medaled this past spring.

Curb side meals will be available for anyone 18 and younger at the elementary gym doors on Friday's. Breakfast and lunch will be provided from 9-11am. There is no cost for the meals.

Red Ribbon Week is October 26-29.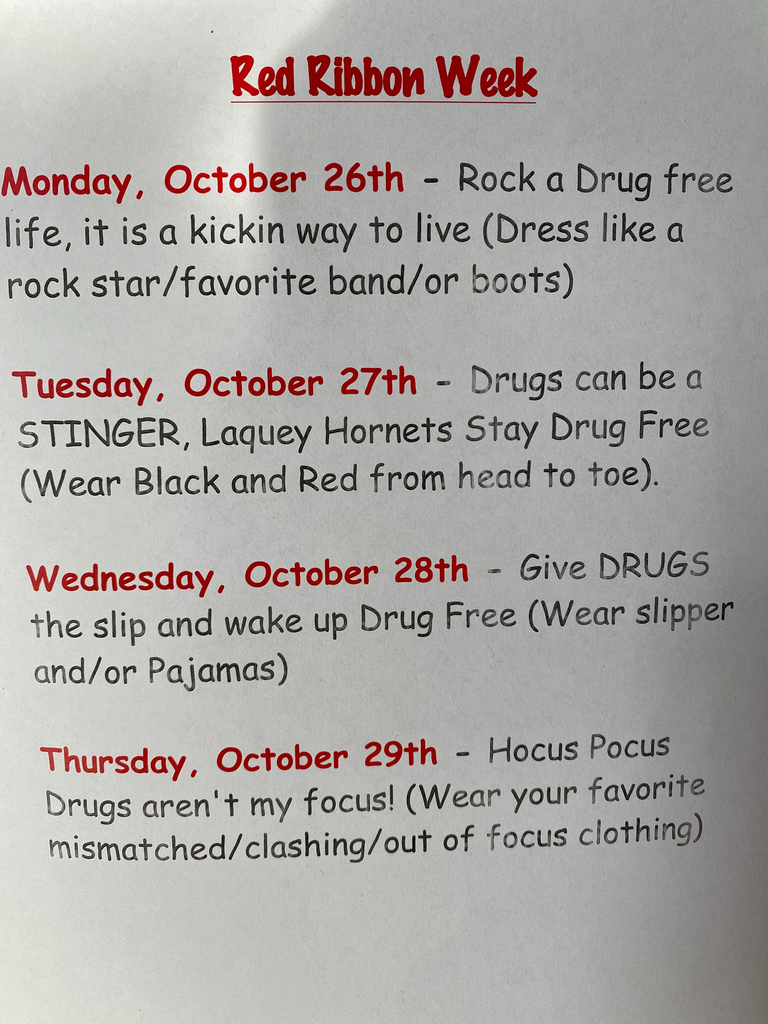 Junior High Boys Basketball play tonight in Richland @ 7:45 in the first round of the JH Boys Frisco League Tournament

Seniors!!!! My name is Wade and I am with Balfour Grad company. It is time for seniors to order grad supplies and caps and gowns. Information will be handed out to students at school on Monday Oct. 19th and they should be bringing it home. I am also attaching the instruction sheet that comes along with it. All graduation announcements and senior wear orders should be placed at
www.balfour.com
. When orders are placed all SENIOR WEAR ITEMS AND ACCESSORIES will be shipped right away directly to your home. ANNOUNCEMENTS and products related to those will ship directly to your home in the spring after Graduation date is officially set and they are printed. CAPS AND GOWNS may be ordered at my website
www.swmobalfour.com
at any time or turned into me at school on the provided form THURSDAY OCTOBER 29TH. Extra souvenir tassels and key chains on that order form will be delivered that day at school if you wish to purchase them. Caps and gowns will be handed out at school in the spring in plenty of time for graduation. If you have questions you may contact my office at 417-887-3648 Thank you Wade Lewellen Balfour
SCHOOL PICTURES If you want your child to have a school picture, Virtual Student Picture Day is scheduled for October 23rd in the Elementary Gym starting at 8:00 am. If you are interested in pictures, please plan to arrive at the following times: Grades PK-3 8:00-8:30 am Grades 4-6 8:30-8:50 am Grades 7-9 8:50- 9:10 am Grades 10-12 9:10- 9:30 am
Fixed Blended Instruction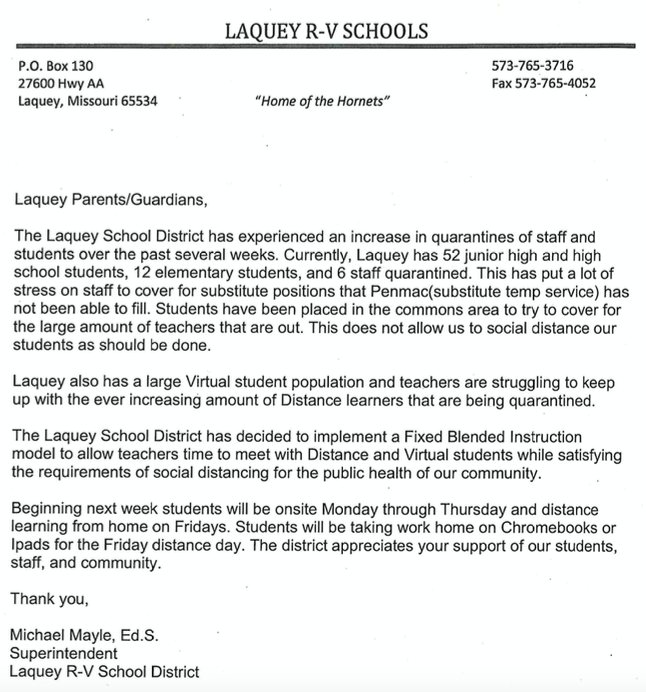 Senior Parents this is a reminder that FAFSA Frenzy is Thursday night it will start at 5:30. It will be held in the Commons Area. Your Senior will need to bring their chromebooks to use, you will need your tax documents, and Senior handbooks. If you have any questions please contact the high school office.

Archery Team Sign Up form Grades 4-12 Join the MoNASP Laquey Archery Team If you are a student in good standing and would like to join the Laquey Archery Team please fill out the following google form:
https://forms.gle/U7V4zFjRiDjdGryx7
Any questions email jhendrix @laqueyhornets .us
Sign up now to receive your FREE smart thermometer!