Our last food giveaway is today until 10:00am. Come by and get snacks and food for your children.
Below is the Laquey 2022-2023 School Calendar that was approved from the School Board last night at the board meeting.
Upcoming Trivia Night! Get registered today!!!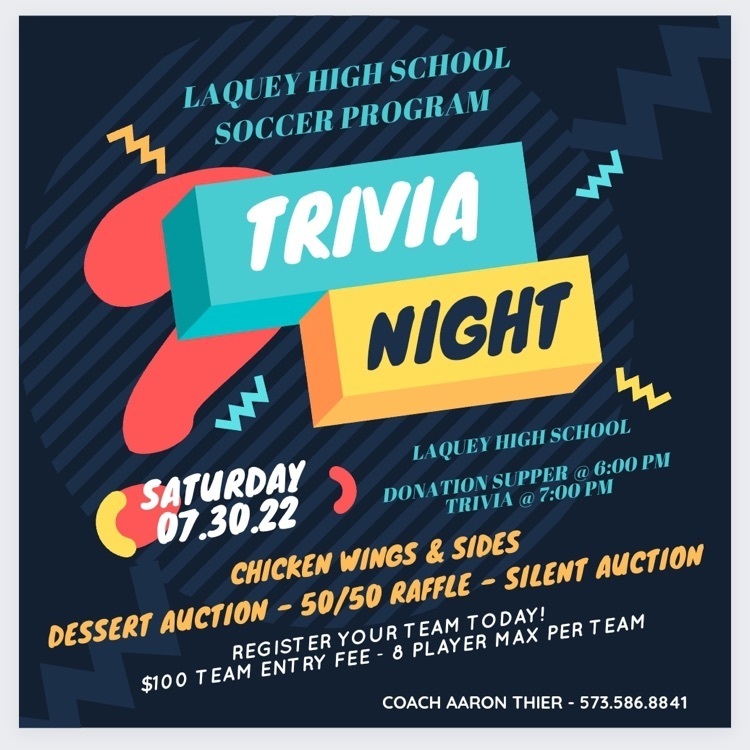 The soccer parent/player meeting has been moved to the high school cafeteria. 5:30-6:30pm. Please enter through the elementary gym doors
Reminder: Soccer parent and player meeting tonight 6/16 in the highschool commons from 530-630. If you plan on playing fall or spring season please be there or have a representative present.
*REMINDER* Food giveaway from 9-10am today in the parking lot.
Tomorrow June 9th from 9:00-10:00am Laquey will have the free food giveaway in the parking lot! -It is one bag of food (7 meals and 7 snacks) plus a gallon of milk per child in the home. Children do not have to be present but only a parent or legal guardian can pick up.
High School Boys soccer will have their first practice, Friday June 10th from 6:00-8:30 at the Elementary Soccer Field. Coach Thier will be holding a parent/athlete meeting for both boys and girls that plan on playing soccer in the 2022-2023 school year on Thursday June 16th from 5:30pm-6:30pm in the high school commons.
Dual credit courses started this week, make sure you are able to access your classes GOCAPS sent out information for next years registered students, please check your email If you have any issues with dual credit please email Mrs. Fortner
*Reminder: 🍀4-H meeting tomorrow, Thursday June 2 @ 5:30pm in the High School Cafeteria!*
Graduated seniors, your diploma packets are available for pick up in the HS office from 8-3 this week. Packets not picked up will be mailed to the address on file with the school.
Fall Soccer Youth League Sign ups
Laquey PTO Meeting Reminder! Tonight 5/25 @6:00pm in the Elementary Cafeteria
Laquey summer school drivers education class students participated in learning how to change a tire.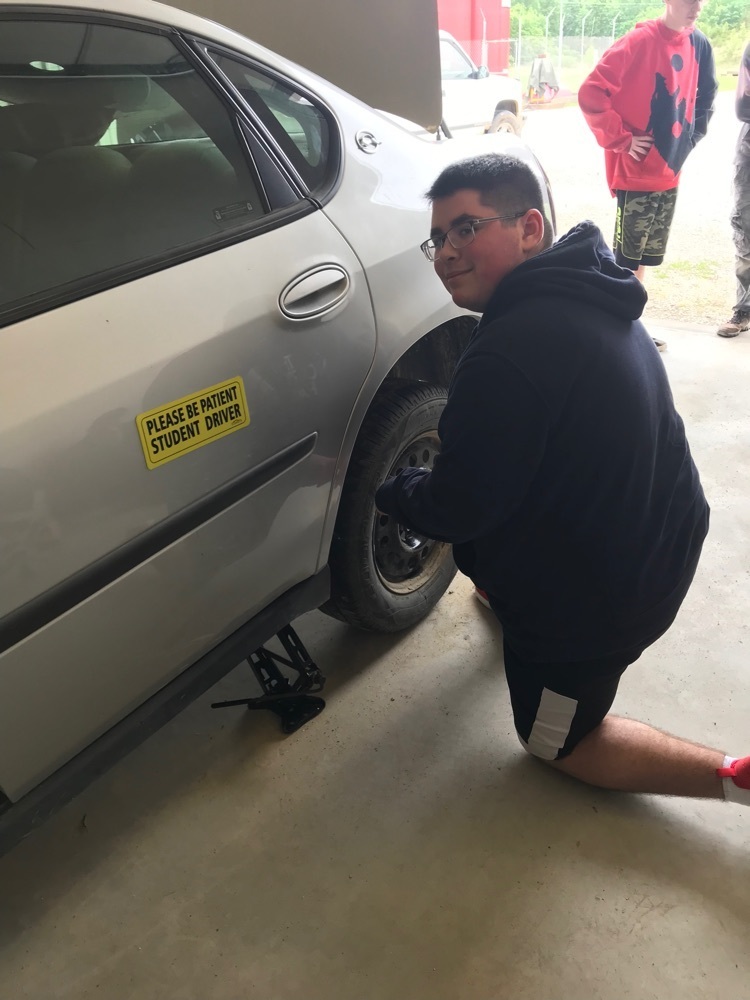 Students grades 7-11 if you have not received your grade card please come by the high school office and pick it up. If you need to pay a fine or turn in your uniform, you may do that as well. Dual enrollment students you may come by and pick up your chromebook for courses during this time as well.
*SUMMER SCHOOL PARENTS* As a reminder drop-off starts at 7:40am in the same drop off line used for Elementary. If you are in the drop off line before 7:40am, you must keep your children in your vehicle for safety measures. Hornet Club before school program starts at 6:40am and you are welcome to drop your child off there. You must walk your child in and sign them in for them to attend. Thank you!
*REMINDER* No Summer School on Monday May 30th for Memorial Day Summer School will be back in session on Tuesday May 31st 8 am to 3 pm.
Congratulations to the following athletes who have made All District and All Conference in their sports! Baseball: Mason Skidmore - All District AND All Conference Gauge Fleschute - All District AND All Conference JD Bowling - Honorable Mention for All Conference Girls Soccer: Alexis Shelton - All District Hannah Thier - All District Adrienne Miller - All District Aurora Rice - All District Hailey Dennis - All District Honorable Mention - Brooke Fowers

Reminder!!! The athletic sports banquet for High school athletes is tonight at 5:00pm Female athletic programs have been asked to bring desserts and Male athletic programs have been asked to bring sides. Also if you have not turned in your uniform(s) please bring them with you! Thanks!
*Reminder* Family movie night hosted by the Laquey PTO is tonight at 7:00pm! With the inclement weather the location has been moved to the Elementary Gym! Bring a chair and join us for a classic summertime movie!